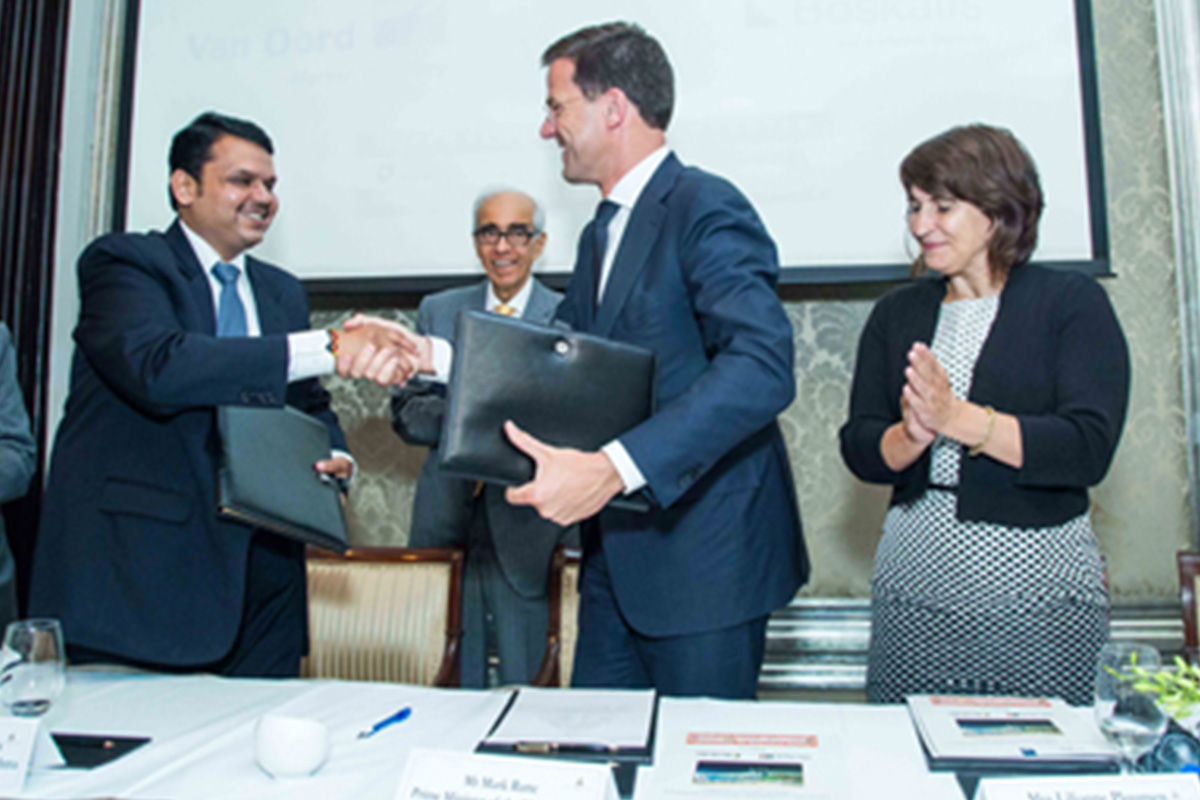 June 6 was a red letter day in Indo-Dutch relationship. On the side-lines of a Seminar on Dutch view on Infrastructure development and delivery, hosted by Mumbai First, the Governments of Maharashtra and the Netherlands signed a Memorandum and Joint Declaration of Dutch support for the Coastal Road project of Mumbai.
Chief Minister of Maharashtra, Mr. Devendra Fadnavis and the Prime Minister of the Netherlands, Mr. Mark Rutte signed the joint declaration in the presence of a galaxy of official's representation Maharashtra and the Netherlands, apart from Industry captains.
The Coastal Road, a 36 km project will connect Kandivali suburb to Nariman Point along Mumbai's west coast. In their presentation Dutch Experts shared their view on the feasibility of combining the coastal road and the new metro line 3 has been studied by the Netherland government. Given the experience the Netherland have with sustainable land reclamation and the use of the sea when there is a shortage of land, the Netherland Government has keenly agreed to share its knowledge in this field.
In May 2015, two Dutch Government experts visited Mumbai to discuss how best to execute the Mumbai Coastal Road-cum-metro executed, using international best practices. Apart from stakeholder inclusion, a recipe for success for the projects executed by the Dutch in both the Netherlands and in other countries, etc. has been 'early contractor involvement' by world famous Dutch marine specialized Design and Build companies. All these companies have been working on coastal projects for over 100 years.
How the Coastal Road and the metro can be combined and how Mumbai can benefit from stakeholder inclusion and 'early contractor involvement' has been captured in a report, based on the findings that these two experts in Mumbai gathered in May.
The presentation was followed by an open house discussion on the same subject, Moderated by Mr. Sanjay Ubale, former IAS and CEO, Tata Reality and Infrastructure Ltd.
Among those who attended included Mr. Ajoy Mehta, Commissioner MCGM; Mr R Ramanna, Executive Director (Planning) MMRC, Mr. UPS Madan, Commissioner MMRDA, just to name a few.
"The Dutch came with their expertise of building with nature", as urged by the Chief Minister Mr. Fadnavis.