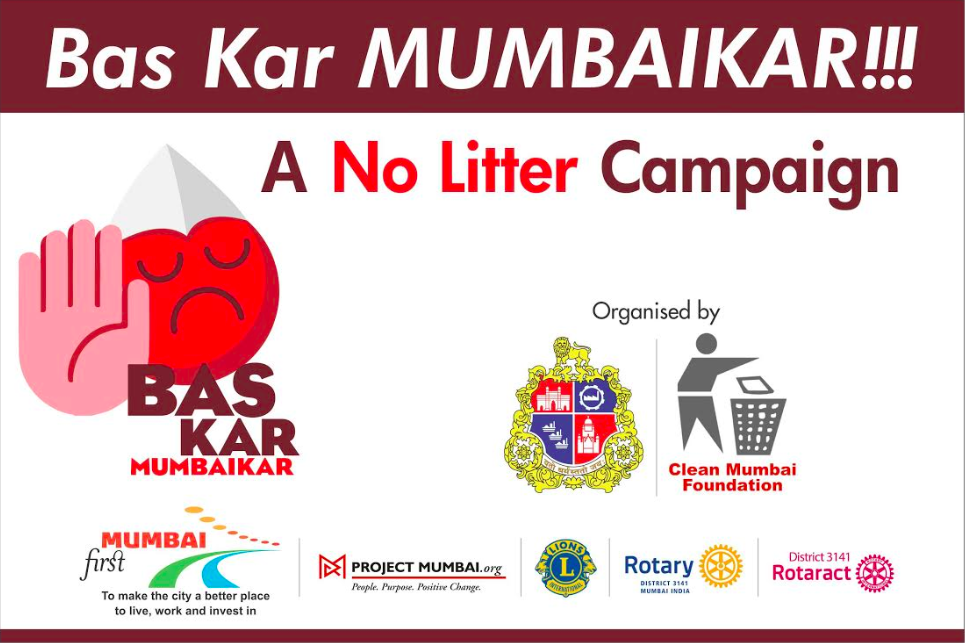 Bas Kar Mumbaikar Events on 30th January 2019 and 1st March 2019 – No Litter Day.
Mumbai First along with other co-stakeholders Clean Mumbai Foundation, Swachh Mumbai Abhiyaan District Rotary Clubs 3141, Rotaract Clubs district 3141 Lions Club International and Project Mumbai launched a year long Anti-Litter Campaign called "BAS KAR MUMBAIKAR!!" No Littering – along with Education Department Committee, MCGM.
The objective of this campaign is to create awareness and bring about a behavioural change in the citizens of Mumbai. Through the monthly activities for this campaign, we'll be touching various subjects of concern like No-littering, Anti-spitting and Management of E-waste etc.
The campaign was kicked off on 30th January 2019 with the MCGM Educational Department. The follow up event was launched on 1st March 2019. More than 300 students of MCGM WORLI SEAFACE HIGH SCHOOL participated by;
Creating posters on the No Litter Campaign and were taken outside the school pavement for public display on the Worli Seaface where thousands of commuters pass by.
A pledge was taken by the students and dignitaries present to keep Mumbai clean.
The Dy. Mayor Smt. Worlikar (Councillor of G-South Ward) distributed prizes for the three best posters of MCGM WORLI SEAFACE HIGH SCHOOL.
This Campaign was unique as it was done in 43 MCGM Schools of G south ward at the same time & on the same day on Friday, 1st March 2019 between 11 a.m. and 12 p.m.
The solid waste department has also supported the campaign as PREVENTION IS BETTER THAN CURE.